Weber Manufacturing Announces the Addition of the Doosan Lynx 220LMSA to their Lineup
The addition of this high performance mill-drill turning center brings new capabilities to one of the area's leading precision machined products manufacturers.
NOKOMIS, Florida (September 17, 2014) – Driven by the demand for larger part sizes and the desire to upgrade their Computer Numerical Control (CNC) equipment, Weber Manufacturing has just announced the addition of the powerful Lynx 220LMSA to their lineup of precision machining equipment.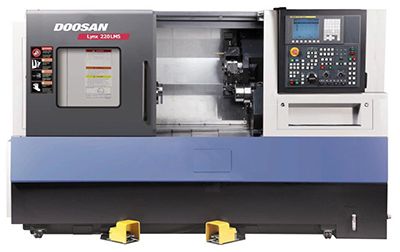 This high performance mill-drill turning center with full contouring C-axis sub spindle and live tooling can complete operations like milling, drilling, and tapping without having to switch to another machine, and its large bar capacity means that we can now perform all of these operations on parts of up to 2" in diameter.
"The ability to complete more operations on a single machine eliminates the cost of an additional set up and it improves delivery times for our customers, while improving our already high quality – it's a win-win!" said Weber Manufacturing President, Sam Prost. "In our lineup of over 40 machines, we have a couple that can perform multiple operations, but none on parts of this size or at this incredibly high speed."
With its ultra-rigid construction and advanced technological features, the Lynx 220LMSA is designed to offer high accuracy and superior surface finishes for years to come, and its high speed turret indexing and fast rapid traverse rates minimize non-cutting time for exceptional value.
For more information about Weber Manufacturing and Supplies, or the state-of-the-art Doosan Lynx 220LMSA, contact Sam Prost at (941) 488-5185.
About Weber Manufacturing and Supplies
Weber Manufacturing and Supplies, Inc. (www.webermfg.com) has been providing a complete range of precision machining services, including CNC Turning, Grinding, CNC Milling, and Thread Rolling, as well as a complete array of secondary operations, since they opened their doors in 1963.