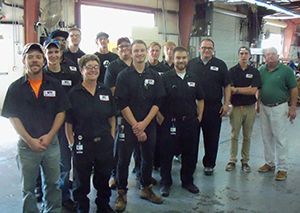 For the second year in a row, Weber Manufacturing has had the pleasure of hosting the students of the Precision Machining & CNC Automation program at the Suncoast Technical College (STC), formerly SCTI, and their instructor, Ed Doherty.
During their visit this past October 31, students got to experience all of the precision machining processes that Weber Manufacturing uses and they had the opportunity to ask questions of people who are already gainfully employed and proficient at the skills that these students are just beginning to learn.
For many Americans, the word "manufacturing" conjures up images of a dangerous workplace and low wages, but the reality is that modern manufacturing facilities are cleaner than many doctor's offices and staffed by highly-skilled professionals who are very much in-demand.
"We want everyone considering a traditional 4-year degree to know that a career in manufacturing will get them on track to financial independence with far less student loan debt and far more opportunity than they ever imagined" said Weber Manufacturing President, Sam Prost " and we hope these soon-to-be graduates will remember us when they are ready to enter the
workforce."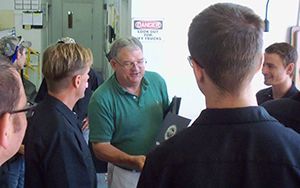 According to the U.S. Department of Commerce, for the past decade, new hires in manufacturing have earned an average of 38% more than new hires in non-manufacturing industries and, over their careers, manufacturing workers earned 17% more in wages and benefits than their counterparts in other sectors.
The Precision Machining & CNC Automation program at STC teaches students how to set up and operate manual and Computerized Numerical Control (CNC) machines with the latest equipment.
Students learn how to program CNC machines and how to use precision measuring instruments and CAD/CAM (Computer Aided Design/Computer-Aided Manufacturing) processes. The 1,200 hour education includes extensive laboratory activities and real-world experiences like the one at Weber Manufacturing.
For more information about Weber Manufacturing and Supplies, contact Sam Prost at (941) 488-5185