Computer Numerical Control or CNC Lathe machines are used to produce parts by turning a rod of the selected material and feeding various cutting tools into the material at varying depths and angles. This machinery allows us to produce very precise parts with minimal or no secondary processing.
Our CNC Lathe equipment includes:

• 1 Doosan Lynx 220LMSA Live Tooling (2.000 capacity)
• 5 Conquest 42 CNC Hardinge Live Tooling (1.625 capacity)
• 1 Cobra 42C Hardinge (1.625 capacity)
• 1 Cobra 65 CNC Hardinge Live Tooling (2.500 capacity)
• 1 GT 75 Omni Turn (1.060 capacity)
CNC Lathe equipment can be used on a variety of materials including:
•    ABS
•    Acetal
•    Acrylic
•    Aluminum
•    Brass
•    Bronze
•    Carbon & Alloy Steels
•    Copper
•    Nylon
•    Polycarbonate
•    PTFE
•    PVC
•    Stainless Steel
•    Titanium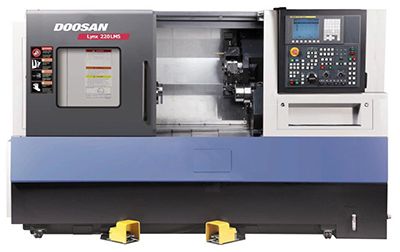 This high performance mill-drill turning center with full contouring C-axis sub spindle and live tooling can complete operations like milling, drilling, and tapping without having to switch to another machine, and it can handle parts up to 2" in diameter.
The ability to complete more operations on a single machine eliminates the cost of an additional set up and it reduces delivery times for our customers, while improving our already exceptional quality.
The Lynx 220LMSA is designed to offer high accuracy and superior surface finishes for years to come, and its high speed turret indexing and fast rapid traverse rates minimize non-cutting time for exceptional value.
For more information about Weber Manufacturing call 800-330-2618.